Philadelphia Eagles make shocking move
The Philadelphia Eagles traded Carson Wentz to the Indianapolis Colts
The Philadelphia Eagles had a horrific season this year and they knew they needed to make some off-season moves. That first move was trading Carson Wentz, the 2nd overall pick back in 2016. 
This trade happened on Feb. 18th, 2021. The Philadelphia Eagles traded Wentz to the Indianapolis Colts for a 2021 third-round pick and a 2022 conditional second-round pick. If conditions are met, that second-round pick could turn into a first-round, which is huge for this team. For this to happen, Wentz would have to play 75% of snaps for the Colts, which is pretty likely, especially after former QB Phillip Rivers retired. If that doesn't happen, if he plays 70% of snaps but makes the playoffs, this would also convert it to a first-round pick. 
This move by the Eagles leaves Jalen Hurts to be the only quarterback on the roster, but that could change in April when the 2021 NFL draft happens. Analysts think that Howie Roseman, the team's GM, will pair Hurts with a veteran quarterback if possible, so he can learn the game better and eventually become a starter. 
Trading Wentz means Philadelphia owns the biggest dead cap hit in NFL history at $33.8 million. This is all because of his huge signing back in mid-July of 2019. The deal was a four-year extension, for $128M. In my opinion, the Eagles are already in huge debt when it comes to cap space. Sitting at over $-40M in that money. This will just do more harm to the organization.
The rebuilding process is officially underway for the Eagles, firing former Super Bowl winning head coach Doug Pedersen, and many trades including Wentz. Their new head coach, Nick Sirianni, was actually an offensive coordinator for Indianapolis from 2018 to 2020. Many thought that with this move, Philadelphia would keep Wentz.
In my opinion, I believe that the Indianapolis Colts won the trade. However, we have not seen how Carson has played on the new team. I think he truly just needs a good line, and some receivers that can get open. He may have had a really bad year, but he's been good in the past. I'm sure he's going to work harder than ever to come back as the best player he can be.
Also, I think he tries to do a little too much. If he stays in the pocket, scrambles when he needs to, and is patient with the ball, he will play very well under the Colts offense. I think that with Marcus Brady as the offensive coordinator, who was the quarterbacks coach the past three years in Indianapolis, he will succeed.
Leave a Comment
About the Contributor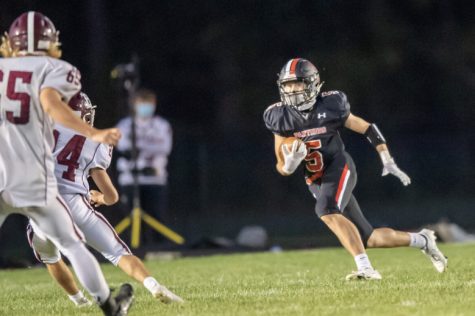 Constantine Donahue, Sports Editor
My name is Constantine Donahue and I am a freshman at Saucon Valley High School. I play football in the fall, and basketball in the winter, both for the...