#ReleaseTheSnyderCut
Seeking redemption for fans, Zach Snyder's Justice league finally released
April 13, 2021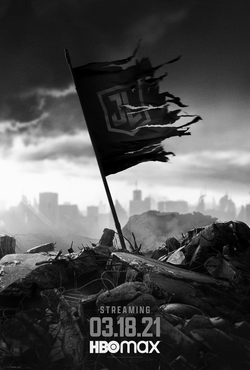 DC fans celebrated everywhere as the Snyder Cut was released in an effort to redeem the heavily criticized Justice League.
With over four hours of running time, the Snyder Cut was the original plan when making Justice League before Warner Brothers made big changes which included trimming the movie back.
Many DC fans had high expectations for the Justice League before the changes, hoping it would create a universe that could rival the MCU. Unfortunately it did nothing but seem to show the lead Marvel has in creating superhero movies.
After the changes and the original release in 2017, DC fans were disappointed and felt it did not nearly live up to the hype. On an episode of GarageCast, senior Dimitri Pandelios stated very emphatically, "…it was bad."
The release of the latest Zach Snyder's Justice League was a big shock to many as tensions rose between Zach Snyder and Warner Brothers, making it seem like they may not continue to work together after the original was deemed a bust.
Fans were disappointed and felt they deserved better, which quickly resulted in the #ReleaseTheSnyderCut movement.  This movement became so popular that even stars of the movie such as Gal Gadot and Ben Affleck became involved.
But finally on March 18, 2021, DC fans finally got the movie they all wanted.  Although a long watch with over four hours of screen time, not many DC fans seem disappointed and feel the movie lived up to its hype.
Later on GarageCast, Dimitri goes on to say "the whole thing about the Snyder Cut is we don't want it to be Hollywood,"  while going on to explain why it's a longer, more gritty movie. He explained how the characters look different and how it's what the fans wanted.
Unfortunately for DC fans the Snyder Cut is likely not to be continued in the DCU as the original was already made and this was a more of what could've been. Maybe plans will change, but for now DC fans can enjoy what they've waited for.