Bright future ahead for the Panthers
Football players outlook on next year's season
With the 2021 football season and summer practices rapidly approaching, some of the key players on the team voice their opinion on what the upcoming season will look like for the panthers.
When asked how the season is looking, freshman running back and wide receiver Constantine Donahue stated, "I think we have a pretty good team, we learned a lot from last year and everyone's getting faster and stronger, we also have a lot of talent that we can use in a lot of different ways." 
When asked about their playoff hopes, Donahue didn't hesitate in saying "I think with this team we're meant to go deep into the playoffs. And hopefully win a league and/or district championship, we just need to play our game and work hard in the off-season and this summer."
What seems to be a common factor amongst all players for success is working hard in the offseason, hitting the weight room, and being dedicated. The summer workouts are what separate the boys from the men as they have 2 practices a day in 80-90 degree weather. They hope that all this hard grinding will eventually pay off though come postseason.
Furthermore, when senior starting quarterback Dante Mahaffey was questioned on if the offensive line would give him enough time in the pocket, he stated "I think that the line is an area that we need to build upon and we have been doing so. We have recruited some guys and they are getting after it in the weight room. I believe in the line and the team and we should be able to get things done as long as we work together."
Additionally, when Mahaffey was asked about the run game and if Saucon will fade away from the reputation of being a run-dependent offense, he said "Yes and no, obviously the ground game is a huge part of an offense so we can't completely deplete it but we have made adjustments to the playbook and you will get to see more of a spread offense in the future."
Some Saucon Valley football fans have also been somewhat concerned about the defensive and whether or not they'd be able to hold things down on their side of the ball. When Donahue was asked about it, he said that "We had some injuries with some guys last year and had to fill those holes with young players. In my opinion our offense and defense are getting a lot better and we'll do well on both sides of the ball."
At the end of the day, it all comes down to being able to put points on the board and win games. When asked if he had the weapons to do so, Mahaffey expressed his faith in his guys by saying, "We have great wide receivers which include Ty Csencsits and Alex Magnotta as well as Constantine Donahue. I also believe our back field is stacked as well and they are capable of running the ball in an effective and efficient manner."
Overall, this team has high hopes and a very bright future with all of the talent in some younger classes. It seems that almost everyone in the community knows the potential for this team and knows what they are capable of accomplishing. With that said, only time will tell how this team will fare during the regular season, and hopefully the playoffs.
Leave a Comment
About the Contributor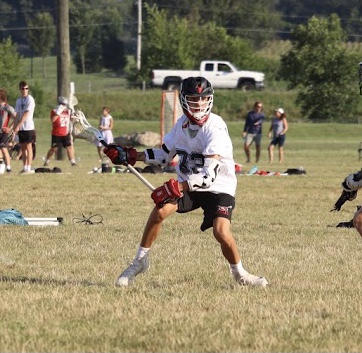 Colin Zavacky, Sports Editor
Hello, I'm Colin Zavacky and I'm a junior at Saucon Valley. I love to be outside and play sports such as lacrosse and basketball. I am currently a...