Panthers lost a few tough games, but they are not done yet
Girls lacrosse team is working hard to come back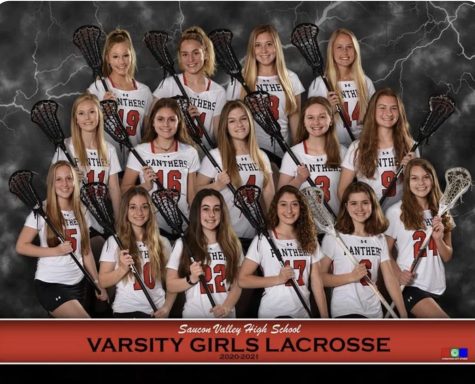 The Panthers lost a couple important games, but they are still working hard for the rest of their season. The Panthers fall short to a few talented teams. Their current record is 6-7. They lost to Parkland by a close score of 9-12. They also lost a tough one to Pleasant Valley, 14-16. Finally, they fell short to Southern Lehigh by 9-18. Although the Panthers looked very strong and beat Nazareth 13-10.
The Panthers play Liberty May 7 at home, and Moravian Academy May 8 at home. The Panthers need to win both of those games to have a 500 record and make it to districts. If they qualify they would have to play either number one seed Southern Lehigh, or number two seed Central Catholic.
The Panthers leading scorer still remains Senior Maria Donahue with a total of 41 goals so far. She is committed to the University of Pittsburgh to continue her lacrosse career. She knows her team's strengths and weaknesses and is very good at communicating with her team. She is very optimistic about the rest of the season and knows what the team needs to work on.
"We just have to keep up the hustle at all times on the field. Finishing our shots and playing good strong defense will make all the difference," stated Donahue.
A strong defender and senior captain Kerry Lannon, knows her defense and is working hard to make it stronger for the remainder of the season.
"The biggest things we need to improve are handling fast breaks, second slides, switching the field on transitions, and staying in front of cutters," stated Lannon.
Another very talented player on the Panthers is sophomore Sophie Engelhardt. She has 25 goals on the season so far. As a young player, she has adapted well and knows her role on the field.
"I think the biggest takeaway is shooting whenever you have the chance to and being confident in your shots," stated Engelhardt.
Although the Panthers have had a tough middle of season, they are working hard every day to improve and finish out their season with another district championship.