Stress, stress, stress
April 3, 2023
Flooded with extracurriculars and classwork, the students at the high school are stressed. 
"Every day when I go to school, I am overcome with an overwhelming sense of dread because of all of the assignments I'm going to have to do by the end of the week," vocalized junior Rylea Townsend.
Townsend also stated that every day, to deal with the workload, she sleeps immediately after school. This type of lifestyle is detrimental to a student's life, and it stems from one source: stress.
"
I am very stressed.
— Rylea Townsend
Junior Isabelle Zellers is another student faced with stress due to school. When asked about the stress of tackling academics and the school musical, Zellers stated, "The musical in itself is extremely time consuming, so I don't have a lot of time to focus on my academics. It also is really energy-costing, so I find myself exhausted after a rehearsal."
Zellers, the stage manager of the school's production of Mary Poppins, dedicates hours of her time after school to the musical. With loads of homework and stage manager responsibilities, stress is a big presence in Zellers' life.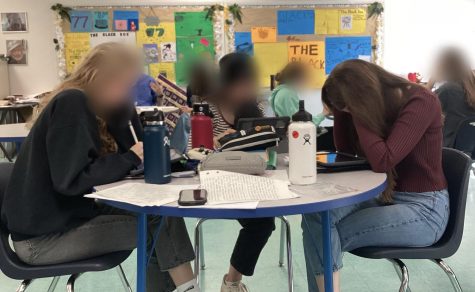 Junior Alison Kacerik is similar to Zellers in the way she has to deal with school and extracurriculars. When asked how she makes time to finish her homework, Kacerik replied, "Other than simply staying up later or waking up earlier to create more time in the day for school work, and based upon the fact that we now cheer at away basketball games, I've taken my iPad on the bus to make more efficient use of that travel time."
Kacerik had to sacrifice sleeping in and a stress free night in order to complete work due to athletics and an abundance of assignments.
Junior Elizabeth Miller is another student athlete dealing with stress and school. This year was Miller's third year on the girls basketball team for SVHS, making her very knowledgeable on time management.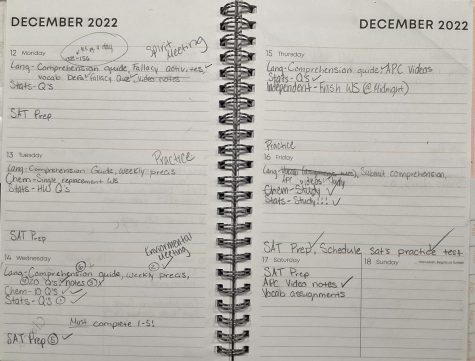 When faced with the question of what advice she would give to new athletes or students, she replied,  "My advice is to always try to plan ahead and have a set schedule. You should understand beforehand how long each assignment will take to complete and how much time will be necessary to fully comprehend the information." Miller followed this answer by saying that even though basketball has brought her stress, it's completely worth it.
Like Kacerik and Miller, senior Kaily Brennan is also a student athlete. Within her four years of high school, Brennan has balanced school with cheerleading, competition cheerleading, softball, and club softball. She also regularly works at her job. 
When asked how stressful her senior year has been compared to previous years, she explained, "Compared to other years in school, I would honestly say my senior year has been the least stressful year I've had. It's very comforting to know that I'm in my last year of high school, which has given me determination to push through." Brennan gave details on how she personally deals with stress, "I find that playing with thinking putty and blasting music in my ears helps me very much."
As an experienced senior, Brennan shared her knowledge to younger students, "Be more optimistic. Try to find the good in everything you deal with."
While stress is all around the high school, it is at least good to know that no one is alone in feeling this way.