From chic to comfortable: evolving styles of quarantine
Rising fashions trends resulting from quarantine and the COVID-19 pandemic
November 18, 2020
There is no denying that in some way, shape, or form we have changed over quarantine. And something that has definitely changed is fashion. 
From chic to casual to comfortable or a little bit of all three, people have taken interest in different styles. Over quarantine, most people have spent more time in loungewear than anything else, and have taken a liking to staying comfortable all the time. However, people have found ways to stay comfortable but still look chic, whether it's wearing a stylish skirt with an oversized comfortable sweater, or wearing sweatpants with a collared shirt, the options are limitless.
Over quarantine, many have found what really suits them, and what they feel they look best in, whichever style it may be. Fashion is always changing, and there are always new trends, but it is difficult to always jump on the latest trends, which is why it is important for someone to find their own style and what they feel confident in. Here are some examples of the new and interesting styles people have tried at home.
Tie Dye
This sixties throwback is rising again in popularity. Turning an old white T-shirt into something more vibrant and colorful is one of the cheapest ways to change up your style. All you need is the dyes of any color of your choice, any piece of old white clothing, and an area, preferably outside, that you wouldn't mind getting dirty. With the pandemic happening, it is dangerous to go out shopping all the time, so tie dying your old clothes is a safe and fun way to make them feel new again!
Sweatsuits
Since everyone is at home now, not many people really have the energy to get all dressed up. Most people are just sitting on their couch and watching TV during these times. This is the reason sweatsuits have risen in popularity. Who wouldn't want to lounge around all day in a comfy matching hoodie and sweatpants? You can wear them in all kinds of colors and patterns. Not only are they cute and fashionable, but they are super comfortable to wear around the house! They are especially great for zoom meetings and socially distanced meetups with friends.
Faux Leather
With winter chill still hanging on, why not keep warm in a faux leather jacket? These pieces do just the trick while also adding a high fashion grunge twist! You can be bold by rocking an unusual color such as red or emerald. You can even take it a step further by walking around town in a faux leather jumpsuit. This 90s throwback is perfect to relive in the fall and winter!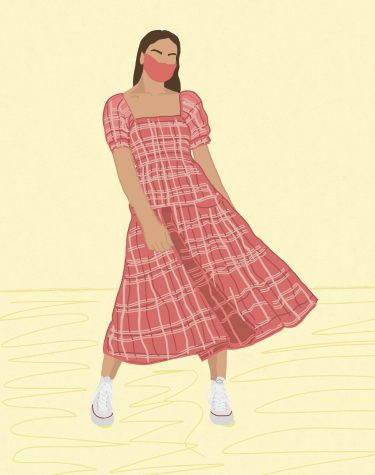 Puffy Sleeves
Just like the nineteenth century, Victorian style sleeves have been coming back in Style! The puffy shape creates the illusion of a slimmer waistline and an overall feminine appearance. You can go for soft colors during the spring, or you can pull off a gothic look with black or grey. Nevertheless, it is a great time to bring out the vintage 80s puff sleeves!
Dramatic Hair Accessories
We all know that scrunchies and big hair clips have made a severe comeback within the past few months. Well, we're here to tell you that they are not going anywhere anytime soon! Colorful hair clips or a soft scrunchie made from or velvet or silk are the perfect way to create fun hairstyles during the summertime. You will likely see more oversized clips securing chignons and satin scrunchies this summer. Better yet, neck scarves are also being used to double up as ponytail holders.
Cottage core
It is a common dream to escape to a beautiful English cottage in the countryside with huge gardens. Although this may not actually happen, dressing up like so can be fun! This was the thought of many people over the summer as they dressed in embroidered cardigans, straw hats, and floaty blouses. All of these were worn in floral prints and pastel colors. One of the best outfits of this style includes nap dresses, which are part night gown and part prairie dress. This outfits, like the sweatsuits, are perfect for zoom calls and everyday wear!
Patchwork
This past fall, patchwork was appearing more and more all over the media. Not only is its funky aesthetic super eye catching, but could also remain in the fashion industry for a long time. This is because patchwork is very environmentally friendly as it consists of the scraps of old clothing sewn together. Clothing companies have always tried to figure out ways to reuse and recycle materials, and patchwork clothing seems like just the perfect way to do so! Furthermore, many attention grabbing outfits could be created using different types of patchwork.
Bucket hats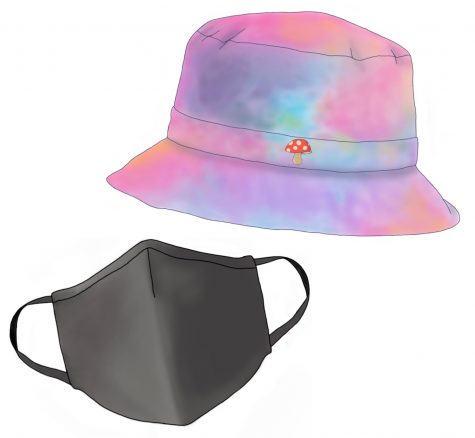 Trying to block out the sun on a hot day? Do so with a cute bucket hat! These hats have been appearing more and more in public, and it is no surprise. They are super easy to style, especially during warmer seasons. These bucket hats also come in multiple pastel colors, from a zesty lemon to a soft beige, so you can wear one to match almost any summer outfit!
Face Masks
It is needless to say that the most defining feature of 2020 fashion is the rise of face masks. With a virus taking over the entire world, it is mandatory to cover up your face with a mask if you want to go anywhere outside your house. Since a face mask is essential for everyone to wear, why not make it fashionable? Along with the basic surgical masks, you can wear cloth masks that come in many different colors and can be made with intricate designs and patterns. You can use these masks to your advantage to match any look you are going for!