Welcome to your new favorite musical
March 15, 2023
You've definitely heard about it all around school, and it's finally here. The Saucon Valley High School theater program is in the final stages of preparing for this year's school musical: Mary Poppins.
This year's lead, Mary Poppins herself, is played by senior Alana Weirbach. Weirbach has been in several musicals at Saucon Valley and outside of the school. This is her last show before she graduates high school.
"
In every corner there's flying, flips, ribbon dances, and so much magic and chemistry within the whole cast and crew.
— Alana Weirbach
"I am so honored that for my senior year, we ended on such a wonderful and magical show," Weirbach shared. "Theater played a big part in my middle school to high school days, and it is so warm and inclusive to everyone. I made so many friends doing theater and as I continue to participate in community theater as well."
The Saucon Valley theater program has been a popular extracurricular for students for many years. Whether performing on stage or working hard behind the scenes, the cast and crew of each show puts incredible effort into the yearly productions.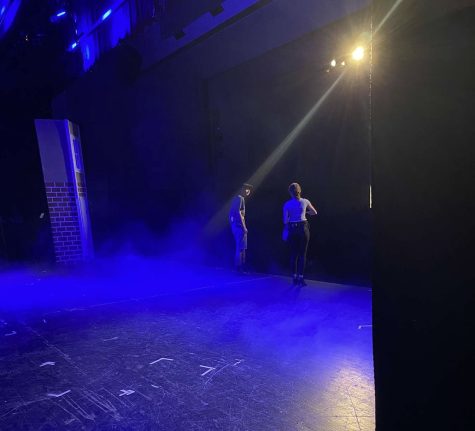 "We have rehearsals almost every day, and they range from three to six hours," said senior student and crew member Katelyn Pequeno. 
These students put hours of hard work almost every day to create the show that's put on stage. This rigorous schedule doesn't come without it's struggles. 
Junior student and stage manager Isabelle Zellers describes the rehearsal process as the biggest challenge throughout production. 
"Everyone has to be on their A-game throughout the duration of our rehearsals and meetings for maximum productivity. It's definitely tiring," Zellers commented. "You have to cram a lot of information and effort into rehearsals, so kids definitely lose some spirit during intense weeks, like tech and pre-tech." 
Although long hours of work is a big challenge, these students are taking it in stride. 
Both Pequeno and Zellers shared that the atmosphere behind the scenes is both fun and productive. 
"Oftentimes people will be dancing around and having fun during scenes, but once we hear a cue we immediately get serious and get to work. It's a very uplifting and fun atmosphere," Pequeno shared. 
Mary Poppins performs March 9-12 in the Saucon Valley Auditorium. It's a magical show you won't want to miss. Make sure to get your tickets below, and the panther press will see you there.

Showtix link: https://www.showtix4u.com/event-details/71001