A look into the life of Braden Weiss.
April 3, 2023
'It's all after hours, that's where I activate'
"I don't know what I'm saying, but I know what I'm talking about," is a quote that junior Braden Weiss lives by. Weiss appears as the typical high school student, however he is much more than that. His day-to-day life is filled with balancing sports, school, and a social life.
Weiss endures the daily life that we all are subjected to. "When I wake up, I hop in the shower. In the shower for about ten minutes, get out, brush my teeth, you know. I get dressed, go to school, and take a nice little drive," said Weiss. While school may not be his ideal weekday activity, he perseveres and consistently attends all his classes.
Weiss admits that, "Nothing good happens in school. It's all after hours, that's where I activate." The "after hours" he talks about includes hanging out with his friends, enjoying time on his phone, and indulging in various sports, both playing and watching. 
'I play football, I play basketball, I play ball basically.'
With the recent ending of basketball season and the beginning of post-season, "ball", as Weiss likes to call it, has been one of the most relevant parts of his days.
"My best quality is ball. I love playing ball," said Weiss. Basketball is held close to Weiss' heart after over ten years of playing. He shines on the court as the boys basketball team's shooting guard. "The way I play ball, I play with intensity. I play hard," Weiss remarks.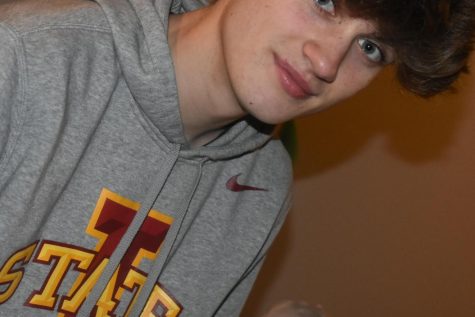 "Playing with Braden is fun. He's always active, moving, energetic, and joking. Practices are fun because he's always fully engaged," said junior Henry Kreschollek, Weiss' teammate. Weiss brings joy to the gymnasium at every practice as his teammates only share great remarks about his attitude, sportsmanship, and overall character. 
"He's funny, he's interesting, and he's kind of abstract," said junior Rudra Thakkar, another member of the boy's basketball team. 
Weiss doesn't only show his abstract side on the court. He shares his good spirits wherever he goes. "He is a joyous spark, and always seems to be happy. In the hallways he'll dap you up wherever you are, always say hi, and ask how your day was," said Kreschollek.
The social life of Weiss
"Braden is a very special individual in all ways possible, and we've been good friends for lots of years now. We've had a lot of fun memories together that we look back on today," said junior Constantine Donahue, one of Weiss' closest friends. Weiss has a close friend group that sees each other frequently. His weekends are filled with laughter and joy, simply because he is in the vicinity of his favorite people. 
Weiss himself stated that his favorite aspect of his day-to-day routine is consistency. "You know, just being consistent with what I do. That's how I roll," he said. Just like the rest of us, Weiss goes to bed at night and wakes up in the morning. However, his friends enjoy poking fun at his eccentric ways.
"
"Some people get under your skin, ain't gonna hurt you.""
— Braden Weiss
"I don't think he needs to sleep. He sleeps because no one else is awake. No matter what, he is always ready to go," said Kreschollek.
When asked what he believed was most impressive about Weiss, Donahue replied "his ability to interrupt you no matter what you're talking about."
While being filled with witty jokes and athletic abilities, Weiss is also filled with wisdom. A motto he lives by, on top of "I don't know what I'm saying, but I know what I'm talking about," is his saying "Some people get under your skin, ain't gonna hurt you."