It's personal: A rivalry for the ages
The rivalry between Saucon Valley and Southern Lehigh has existed for longer than anybody can remember. No one knows how it started, no one knows when it started, but it has remained prominent for decades. 
Historically, the rivalry between the two schools has remained the same for years on end. Former Saucon Valley student and athlete, Katie Roberts, has been experiencing the rivalry for years now as an alumni and now teacher at the high school. When Roberts was asked what the rivalry was like in her high school days, Roberts stated, "The rivalry was pretty intense. There really wasn't any sport or activity that didn't have the Southern Lehigh and Saucon Valley rivalry." 
Roberts has been able to witness the evolution of the rivalry. Roberts described that the rivalry has significantly changed through the years through the use of social media. The student bodies of both schools partake in taunting each other and trash talking through platforms like Instagram and Twitter.
From the perspective of a player who experiences the effects of the rivalry during basketball season, junior Henry Kreschollek explained, "Preparing to play Southern Lehigh is just like any other game. They're a good school with good sports programs just like Saucon. They are usually more competitive than other schools so preparation is more than usual. The tension and hype for these games is way more though." 
Saucon Valleys' preparation for any sporting event against Southern Lehigh is significantly more than any other team due to the fact that Southern Lehigh is in the 5A classification and Saucon Valley is in the 3A classification. Although Saucon Valley is the underdog against Southern Lehigh, Saucon always puts up a good fight against them. Junior Austin Zolnierz, an avid fan of Saucon Valley athletics, stated that, "I like being the underdog. It makes me feel amazing when we win so I can brag about it all day."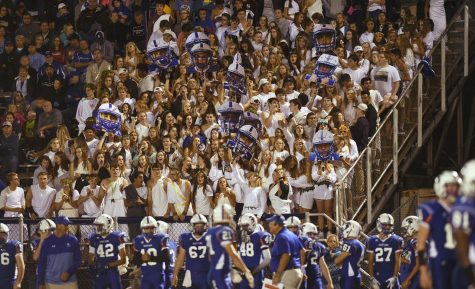 Just recently, Saucon Valley knocked Southern Lehigh out of the league semi final in boy's basketball. When Zolnierz was asked how it felt to knock Southern Lehigh out of their chance of a championship win, he gave the analogy of, "It was a kid on Christmas. One of the best high school moments of my life." The support and excitement towards any Saucon Valley Sporting event against Southern Lehigh is always much more heightened than we usually see. 
Many students within the Saucon Valley student body do not believe this rivalry will end anytime soon as it has been such a historically known rivalry.