Home of the brave
Last spring, Saucon Valley baseball shocked the Lehigh Valley by having an exceptional season with the record of 20-4 and an unexpected district tournament win. They went on to lose in the quarter finals of states against Holy Ghost Prep academy. The question this year is, can they stay on top or fall under this upcoming season?
The boy's baseball team had a winning percentage of 83% during their Spring 2022 season. "Our weakness would be the underclassmen jumping into this year's Varsity line-up," said the team's head coach Gary Laub.
The team has some incredible returning starting players such as Rocky Viscito and Ron Werkheiser. Some other star players include Jake Klotz, Jacob Albert, Cole Hubert, and Liam Buck. The 2022 Spring season was the best record the team has had in school history.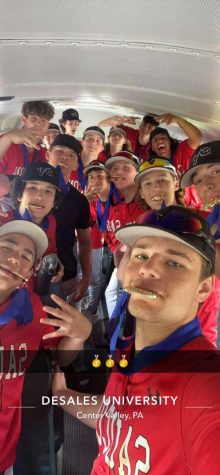 "I think we have a great bullpen and a lot of great contact hitters," said sophomore Andrew Gilbert.
Saucon has very powerful hitters such as Werkheiser with a .523 slugging percentage and 1.033 OPS percentage. They also have some great pitchers, such as Albert, Viscito, Hubert and Klotz. Sophomore Jack Schmell agreed with Gilbert, adding that "[Our] pitching and hitting are both very good."
"Our biggest challenges this year are the same as every year.  Notre Dame Green Pond, Southern Lehigh, and Northwestern Lehigh," said Laub. Notre Dame beat Saucon 6-4 last season, Southern Lehigh had a 20-4 record, beating Saucon 10-0, and Northwestern had a 4-2 record with losing to Saucon 6-10.
With such a successful spring 2022 baseball season, what do the boys look forward to this year? Some players like sophomore Joey Griffith dream big by saying "State champs." Other players like Gilbert say "Win our league. Win our district, make a strong appearance at states and hopefully win." Some dream big, some dream reasonably but coaches' goals go. 
"Our Big Goals are to win the Colonial League and District XI 3A Title.  Our focused goals are to improve our 2 strike hitting and two strike pitching," said Laub.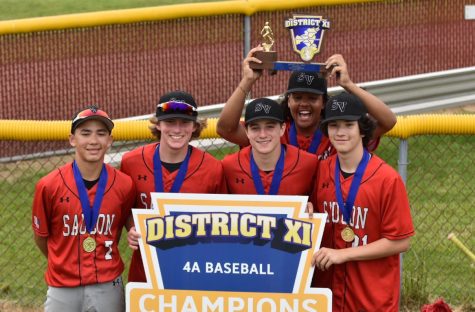 Like every sport, the team bond is very important. When asked what the strength of the team was, Griffith said the "family aspect."  It's important to remember the people you go through the journey with rather than the destination.