Teacher profile: Mrs. Mertz
May 4, 2023
What is your favorite color? 

My favorite color is green.
Are you a cat or dog person? 
Both!  I have a cat and a dog.
What job did you have during high school? 
Table Busser at Blue, Manager of the Lower Nazareth Baseball Snack stand, Summer Camp Aide and Junior Counselor at Camp Wood Haven.
What is your favorite song? 
Girls Just Wanna Have Fun – Its everything wonderful about the 80's.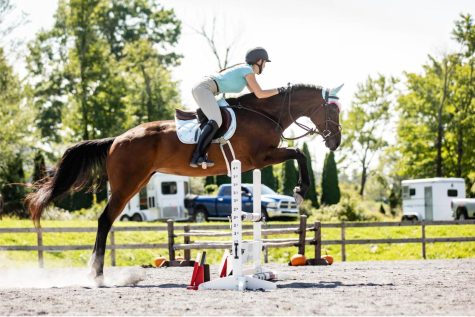 Who is/are your teacher best friend(s)? 
Cheri Chisesi, Mario Marcozzi, and Eric Focht.
If you could have any job in the world, what would it be?
Wildlife Educator at Disney World Animal Kingdom,  When I was a kid I wanted to be a Rockette but I'm too old now.
Do you have any pets? 
Cat – Cosmo, Dog – Finn, Horse – Sadie
What is your favorite sport to watch or play? 
Equestrian.
Do you have any hobbies? 
Active performer in Local and Regional Theatre (Actress, Singer, Dancer), Horseback Riding, Hiking, Kayaking.