Metallica on tour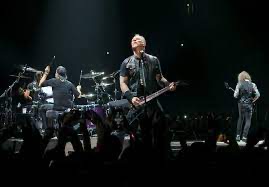 Metallica is set to embark on a 2023-2024 tour in support of their new album, "72 Seasons".  Their newest album came out on April 14, 2023, and is going to be supported by this upcoming tour where they plan to play each song from their discography only once.  
From the gathered responses, it seems that the people are not planning on embarking the upcoming tour due to a variety of reasons.
"While I like some of their music, I am not planning on going on the tour especially due to the costs," college freshman and Saucon Valley alumni Aj Sipos commented. Speaking of the costs, the tour is expected to be in the hundreds of dollars. Sipos also mentioned, "It's not surprising that it's this high, they're a large band after all."
Despite the costs, many who like Metallica, agree that they are worth seeing. "I've seen them live twice in the past at Musikfest. I cannot speak on the costs because I saw them for free, but they were pretty good," said community member Jeremy Williams. Williams mentions the performances being the best part of the concert, even mentioning how loud it was.
While Metallica is a band with a large fan-base, the band is not for everyone.
"I've seen some concerts in the past, but I prefer different genres of music," junior Aidan Villegas commented. When asked why he prefers different genres of music, Villegas explained, "I grew up listening to pop and hip hop music. Not a fan of rock music because I find it too out of my comfort."
Metallica will most likely draw large crowds to their tour due to each night's unique set.  But regardless, high ticket prices, lack of interest, and personal taste may be key factors in choosing whether people want to go see Metallica on tour or not.