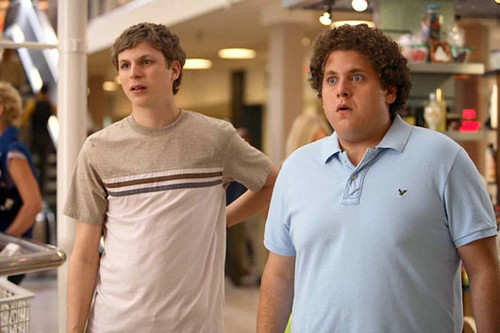 Top 10 high school movies
May 12, 2023
There's a specific genre of movies made to appeal to younger audiences: high school movies. They typically fulfill a general set of stereotypes and use them to create a semi relatable, often forgettable, film. However, there's a rare chance the movie turns out to be a sensation. Here's a list of the best ten high school movies that did it right.   

10. Mean Girls
This movie almost exclusively made the cut due to its success. Starring the insanely popular in this era, Lindsay Lohan, the 2004 film made $130.1 million in the box office. It surrounds a teenage girl named Cady Heron who moves from Africa to the United States to attend high school. At North Shore High School, she meets The Plastics, consisting of leader Regina George, Gretchen Weiners, and Karen Smith. The movie surrounds the idea of mean girls in high school, how they act, and the consequences everyone faces because of them. It's a very famous movie that is often considered a must watch. I personally don't think it's worth all of its attention, especially compared to the others that rank higher on this list. 
9. Bring it On
Keeping the bias of being a cheerleader in mind, I think Bring It On deserves to be ranked higher than mean girls for several reasons. I enjoy the overall aesthetic and morals of the movie more, and it features a love interest that isn't, in my opinion, intolerable. Bring It On is the story of two cheerleading teams, one lead by Torrance (the Toro squad), and another lead by Isis (the Clovers.) When Torrance is elected captain of the Toros, she learns from new student Missy that the Toros have been stealing the Clover's routines for years, and that their winning streak has been a scam. Torrance becomes determined to establish the Toros place in the cheer community fairly and begins a long battle against the Clovers to win nationals. The 2000 movie is very comedic and lighthearted, but also shares important lessons with audiences that leave them satisfied with any winner. The lower rank is due to its decreased coverage of high school life and focus on cheerleading, but that doesn't mean it doesn't have great visuals and an inspiring story. 

8. Ferris Bueller's Day Off
Ferris Bueller's Day Off is considered a classic by any parents of current teenagers. The 80's movie features Ferris Bueller, his best friend Cameron, and his girlfriend Sloane. Ferris calls into school sick and skips with his friends, chased by his school principal who hopes to catch him skipping. This movie makes the list because it's a classic movie with several iconic scenes, and it's beloved by people of all ages. 
7. Ladybird
Ladybird is a newer movie on the list. The 2017 movie stars Saorsie Ronan as Christine, who refers to herself as "Ladybird." Ladybird goes to a catholic school in Sacramento, California. Throughout the movie, Ladybird faces friendship issues, relationship developments, college admissions, and overall self growth. The biggest plot point in the movie, however, is her family challenges. It's a very touching movie that shows an awkward high schooler grow into an uncertain college student, which is very realistic. It's a very blunt film with impactful dialogue and beautiful scenery, and it tells the widely known story of loving, hating, and leaving your hometown.
6. High School Musical 3: Senior Year
You might have expected to see the original High School Musical film on this list. However, I believe the third movie is the absolute best of the three? Seniors Troy and Gabriella face the last semester of their senior year, including prom, college decisions, their final musical, and leaving everything they've ever known behind. The movie is upbeat and fun, considering it's a Disney movie, but also accurately portrays the emotions and hesitancy to graduate that so many seniors experience in their final months. It's timeless and emotional, and it has very beautiful visuals and a very springtime feel. I highly recommend any graduating seniors watch this movie their senior year. 
5. 10 Things I Hate About You 
One of the older movies on this list, 10 Things I Hate About You was released in 1999. Kat Stratford is a junior in high school and is considered cruel and abrasive by her classmates, despite being very beautiful and intelligent. Her younger sister, Bianca, is pretty and kind, and is beloved by her peers. Their father has a rule for them: Bianca can only date once Kat does. A new boy, Cameron, falls for Bianca and enlists rebellious student Patrick to pretend to fall for and date Kat in exchange for money so that he can date Bianca. The plot of the movie is an adaptation of Shakespeare's The Taming of the Shrew. The movie is iconic and interesting, with a largely famous cast and scenes that will go down in rom-com history. It's an essential high school movie for people of all ages. It's ranked so high because of its music, morals, and good vibe.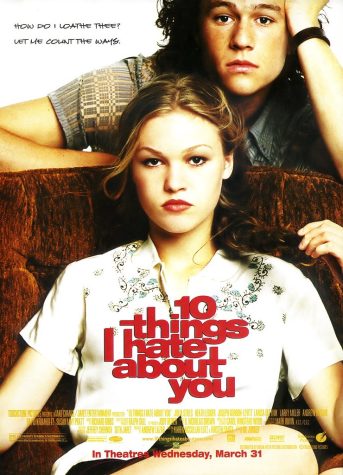 The "10 Things I hate About You" promotional photo. Source: Flickr
4. Perks of Being a Wallflower 
This movie surrounds Charlie, a high school freshman, going through his freshman year with no friends and severe social anxiety. He meets step siblings Sam and Patrick, seniors, who show him the way and offer him a friend group and advice about getting through school. It's a gut wrenching film about the hardships and awkwardness of growing up, and it has several twists that leave viewers feeling impacted and changed once it's over. This one makes the top five because it's definitely a tearjerker that will always be memorable. It's one of the few movies in this list that covers a heavy topic, and it's topic is by far the heaviest. If you are interested in the plot of this movie, I would highly recommend reading the book first to become better acquainted with the story and it's themes. 
3. The Edge of Seventeen 
The Edge of Seventeen is a newer movie that tells the story of Nadine (Hailey Stienfeld), who's a very socially awkward younger sister of her popular older brother Darin. After watching her father die in her sophomore year, Nadine feels incredibly alone except for her best friend Kirsten. When her friend and Darin begin dating, Nadine begins to face even more challenges that involve dating, growing up, and self worth. The movie is a comedy with heartwarming and emotional elements. It perfectly encompasses what it's like to feel awkward and alone in high school, a feeling so many students experience. It has a sweet ending and is a must watch for high school students. 
2. Booksmart
Coming in at number 2 is the 2019 film Booksmart. Two seniors, Amy and Molly, are both graduating high school having had outstanding academic careers. However, they're not very popular. As Molly gloats about her Ivy League acceptance, she realizes all of the "mean popular kids" around her also got into prestigious schools and also managed to have a good time. Molly freaks out, leading Amy on an adventurous night of parties and self discovery among their peers in an attempt to have fun for once. This movie is super lighthearted and fun, and explores the aspect of teen self discovery in a way not many of these movies can. The characters are not only annoying and frustrating, but also relatable and understanding. This movie also shows a reality that isn't really seen in most high school movies, successful students who also manage a social life. Booksmart is very similar, in my opinion, to Superbad, number one on this list. 

1. Superbad
The best high school movie of all time is decidedly Superbad. This is a legendary movie that should be seen by anyone over the age of about 13. Seth and Evan are seniors who are best friends and will attend different colleges. Seth's love interest, Jules, invites him to her party that night. Evan's love interest, Becca, is also attending the party. Their friend, Fogell, purchases a fake ID under the name McLovin. Fogell is taken on an adventure with two idiotic police, and Evan and Seth attempt a mission to make it to the party. This is by far my favorite comedy of all time. It's timeless, it's hilarious, and it has a very famous cast. It has a heartwarming ending while being entirely unserious the whole movie. It's the perfect watch with friends and can be watched on repeat. 
That completes the list of the top ten best high school movies. Try to watch as many as you can before you graduate, or even after. These movies are timelessly entertaining.