Check your calendars: it's promposal season!
Promposals have started popping up around Saucon Valley High School; two of the most notable ones happening on stage in front of a live audience.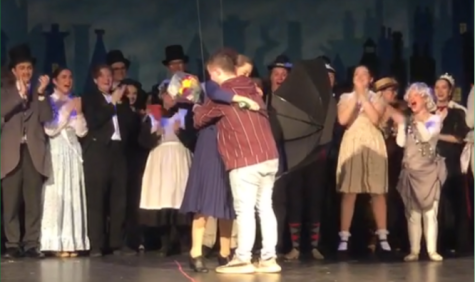 At the end of the Friday night showing of Mary Poppins on March 10, as senior Alana Weirbach was sent out on the fly machine to take a bow, her boyfriend Ian Meschester walked out on stage. Before surprising Weirbach, he held up a sign saying "I'm asking her to prom" so they were aware of what was about to happen. Meschester then held up a sign saying "Will you with me to prom?" and a bouquet of flowers. 
"I was utterly shocked but so so happy. It was almost a full house that night, and everyone in the room stood up and cheered. The production team lowered me back down, and I said yes and hugged Ian. It was the most magical experience," Weirbach said. "I was unbelievably surprised by this. It's a theater kid's dream for something like that to happen to them." Weirbach and Meschester have been dating for the past 7 months. "Even weeks after, I still get comments about it! People were so happy for me, and that this happened in Saucon Valley in general!" Weirbach added.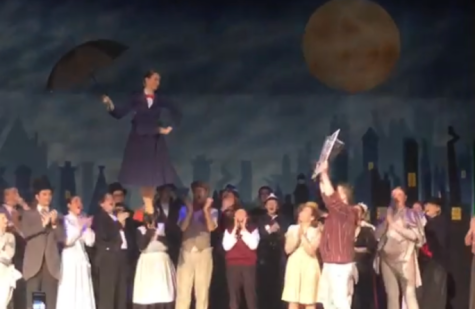 "I decided to do the promposal this way because I literally couldn't think of a more special way to do it. I know that Alana loves theater and that if I did the promposal after one of her shows like I did, it would melt her heart. I try to go overboard with everything I do for her to make her feel loved and I think I'm doing a good job at that," Meschester commented. "After the show I had at least 30 people tell me that the promposal was awesome or that I had a lot of guts to do that and got a couple fist bumps as well. I was even getting comments about it from people at the next two shows that I was at as well."
On Thursday March 23 during the Super Saucon Senior Pageant, during the formal attire portion of the event, senior Mason Warnke was handed a microphone. Senior Bret Sheasley, another contestant in the pageant, walked out and gave Warnke a bouquet of flowers. He then asked his girlfriend, Maura Ceglia, to attend prom with him.
"
I put my heart out there."
— Mason Warnke
"It felt amazing, I've never been given such a big gesture and certainly not in front of  many people! But surprisingly I wasn't nervous at all, I was so caught up in the moment and I kept a huge smile even walking up in front of the crowd! I got up to accept the bouquet and say yes so fast that I actually lost my phone under the seats!" Ceglia commented.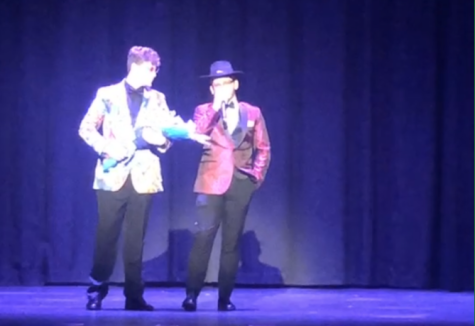 "It felt great! I thought I was going to be nervous but I put my heart out there and it went amazing! I decided to prompose this way because I thought it would be magical for her and I wanted a way to wow her!" Warnke and Ceglia have been dating for the past 3 months.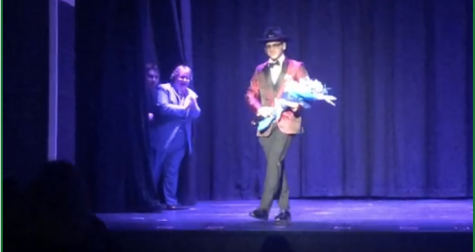 "I was surprised and may have teared up a little after I sat back down, it was an amazing feeling.That night was my first time going to SVHS and meeting the students and teachers, and they were so nice and congratulated us. One woman said 'you must feel very special,' that stood out the most to me and she's right." Both Ceglia and Meschester do not attend Saucon Valley High School.
"A lot of people commented on the promposal. A lot of people congratulated me, but I'll say my coach had the best reaction because he thought I actually proposed to her and that I was getting married!" Warnke commented.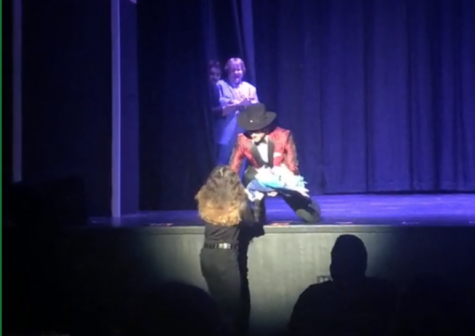 Those in the audience seemed to have only positive comments on both promposals. Senior Katelyn Pequeno, who was part of the production team for both the musical and pageant, said that "witnessing these two promposals was really exciting! I loved seeing their reactions and I thought they were both incredibly sweet and super cute proposals!" Pequeno said.
These two couples helped to kick off the prom season throughout the high school, as other couples have followed in their own promposals. "I think promposals are important in the sense that they add to the whole prom experience and get people excited for prom in the month leading up to it." Pequeno added.